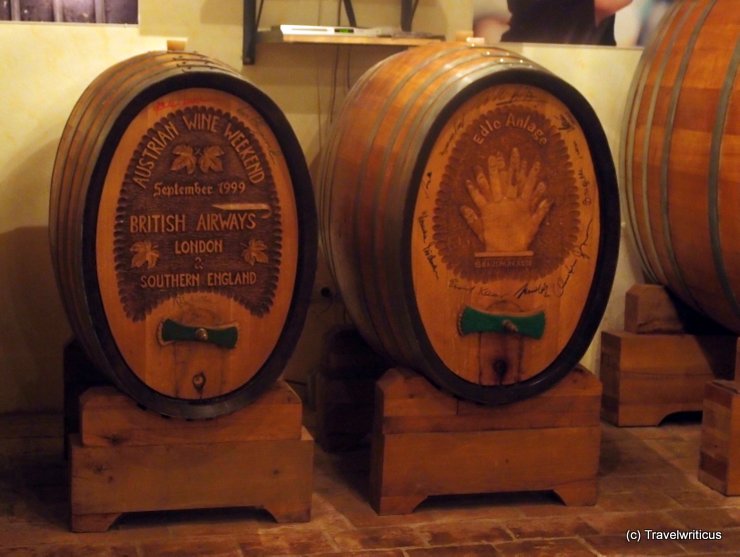 It was in the early afternoon when we arrived at the winery Willi Opitz, located in Illmitz, a small place in Burgenland. A bike standing in front of the house heavily laden with a big bottle of wine gave us the feeling we are in the right place. We walked in and were surprised …
… because this location was different. The walls were cluttered with photos and paper clips featuring Mr. Opitz and his wines. Obviously this wine maker promotes his products in a very courageous way.
So he loves to pitch to prominent people. His wine 'Mr. President' has found its way to the White House during the reign of Bill Clinton and another wine named 'Hasta la Vista' has been dedicated to the Arnold-Schwarzenegger-Museum in Graz. Of course Mr. Opitz met both of them personally: Bill Clinton and Arnold Schwarzenegger.
Let continue with the wine 'Pole Position' which has found admirers like Ron Dennis and Mikka Hakkinen. And there is another label named 'Pink Kiss' which is probably not only a good wine but even more a good choice for everybody's next rendezvous.
Ok, lets speak about the wine tasting itself. You know for me wine tastings are often boring. Of course, the wines are generally fine but the presentations are pretty lopsided. A great wine on the one side served with a simple piece of bread on the other side.
Well, this time it was different, this time it was Opitz. Each glass of wine was served with a delicious piece of food created by a catering company with the savvy name C.I.A. (Catering by Ian & Angela). So we experienced not only the taste of good wine but we also learned how one could combine this wine with a certain snack or dessert. Well, that I call an educational wine tasting!
While Mr. Opitz was telling us that some of his products are even offered at Harrods in London I discovered several wine casks marked with the names of well-known companies. I wondered why does British Airways store a cask in the cellar of a winemaker in Burgenland?
"Because we offer the chance to make your own wine starting with picking the grapes right up to labelling the bottles" replied Mr. Opitz to my question, "And in that barrel there is wine made by British Airways and some of their clients."
Ha, that's a good idea! Why not making my own wine by picking the grapes myself at the winery of Mr. Opitz? The name of the wine? I'd go with
'Travelwriticus – Best choice for witty travellers'
Well, I was very impressed by this meeting with Mr. Opitz. This was not an ordinary wine tasting. This was a lecture how to create a wine in a way that each glass of wine not only offers a good experience but also a good story.
To which inspiring wine tastings have you already been?