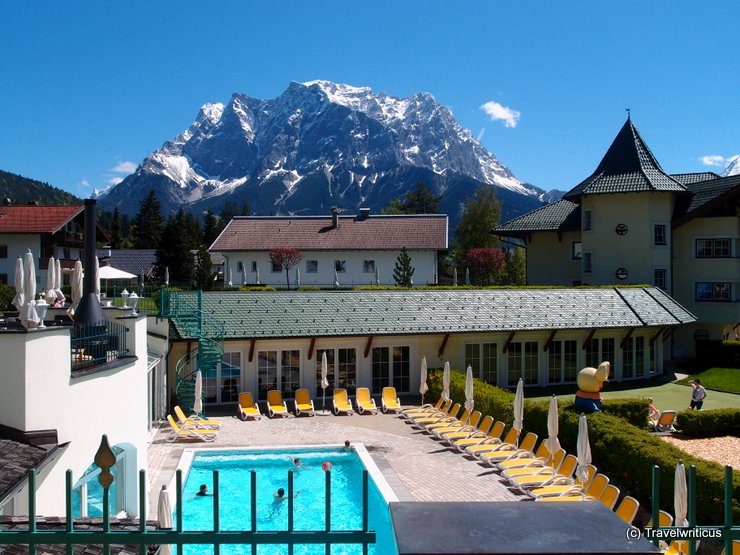 In May 2013 I got an invitation to stay at Leading Family Hotel & Resort Alpenrose in Lermoos. That was an interesting invitation because I generally travel alone. I was curious to learn what this 4 stars superior hotel had to offer for families though.
The hotel is located in Tyrol next to the Zugspitze and the border to Bavaria. I took the chance to take two scenic railways in order to get from Innsbruck to Lermoos. First I took the Mittenwald Railway (pic above) to Garmisch Partenkirchen and than I headed with the Außerfern Railway to Lermoos.
My first impression of the hotel: They offer a lot of exciting stuff for the children. It's a kind of Disney world but without the crowds of Disney world. For example have a look at the knight's hall of the hotel depicted above.
And what about the grown ups? There is also a wide area for all kind of treatments. I didn't try the spa area but I was very impressed by some details. For example by this spacy room shown above which is intended for light and sound therapies. I also loved the idea of chocolate massages for children.
Well, instead of spending some hours at the spa I took a class in indoor golf. The local teacher, Mr. Joe, told me some important points how to drive the ball towards the hole. Of course there would had been also a chance to learn golf outside but for the first steps it was helpful to see what I did wrong by looking at the analysis by the golf simulator.
Another fine moment was taking a coach tour combined with a wine tasting. It was a lot of fun tasting some fine wines and watching at the mountain ranges around Lermoos. Besides that the coachman did know some interesting stories about the life in the alps.
Nice surprise: They hotel offers blood sausage for breakfast which isn't that common. I also loved the chance to talk with the chef while she made the ordered omelettes in front of me. By the way breakfast, lunch, afternoon buffet, evening menu and soft drinks are in room rates included. There is only an extra pay for the alcoholic drinks, e.g. for one of the 550 different wines listed on the wine list.
My most favourite place at the hotel was a sort of lounge. While working on my notebook I had a fine view at the mountains as well as at this fanciful decorations. Though there were a lot of children inside the hotel the atmosphere was surprisingly never noisy. I guess most of the youngsters were engaged in activities like crafting in some workshops or chasing each other at the indoor go-kart.
Thinking about the style of the rooms I have to tell there is not really a general style. Whereas my room was pretty folksy (tiles stove included), there were other rooms in a more trendy style (like above).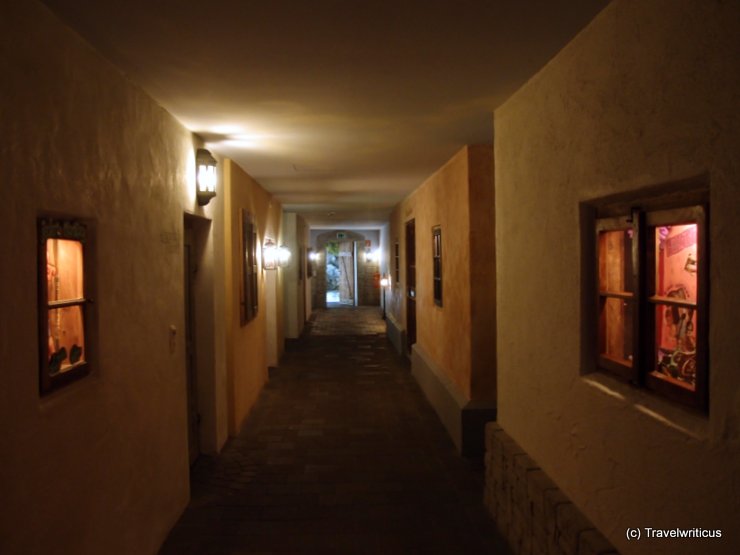 All in all the hotel is very different decorated so it was a kind of research trip for me to discover all these styles in course of time. Behind each door there was something completely different: e.g. a theatre or a pirate ship, a playing area for small children or a play station room for pupils, the entrance to a gym with power plates or the exit to a platform for sunbathing. Each door meant a different adventure for youngsters and grown ups. And that's my final impression: A hotel with an adventure behind each door.
Disclosure: I was invited by Hotel Alpenrose to experience their services and to put down my own thoughts about them.